Organising Mailers
April 6, 2022
I am a member of more mailers than I can list. Some have served me well. Some are virtual ghost towns. Others, (the vast majority) fall somewhere in the middle. Collectively they deliver a lot of traffic, but they can be particularly labour intensive.
For years, I've been trying to balance my efforts with list mailers between investing some time in them and overworking them. Some tools have aided me in my use. Referral Frenzy takes a lot of time out of mailing, but it covers maybe 20% of my mailer membership. In the early days, Viral Mail Profits could actually keep track of credits available in all mailers, but that capability seems to be broken.
I tried running spreadsheets for years but they're too labour intensive.
Lately, I've been noticing a program that among other things, advertises the capability o organising and keeping track of your mailers.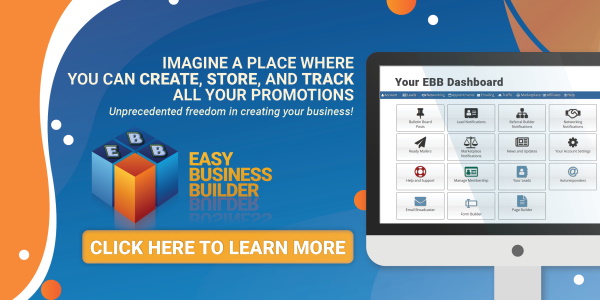 I joined and took a look.
Easy Business Builder is a serious piece of work and it takes a little time to actually come to grips with everything that's available. If I'm honest, I still have quite a bit to learn about how everything works, but from a simple mailer organisation point of view, it certainly fills a need for me.

From one site, I can now keep an eye on which mailers are due to mail, and which are low on credits. I can also keep an eye on click-through rates and track the effectiveness of various headlines and splash pages. So, from that point of view, I'm really happy.
There are several levels of membership available and I chose the "starter" level package which costs $10 a month. If I didn't already have an autoresponder, and if I wasn't capable of building my own squeeze pages, I'd be tempted to choose a higher level, but, as my primary need is simply to better manage my mailers. I found the starter level quite sufficient for my needs.
So, should you try it?
That depends. If you're just playing around with a couple of mailers and have no intention of going further, then this is not required. On the other hand, if you're progressively building your advertising reach through mailers and safelists, then this will be very handy. It also has a variety of other tools including autoresponders, banner and splash page design and trackers, making it very attractive if you don't already have these tools.
What I like
Once set up, mailer scheduling and tracking become much easier

2. Additionally, if you choose to promote Easy Business Builder, any mailer that you have will contain your affiliate link. I'm not sure if that does a lot unless you choose to aggressively promote Easy Business Builder using some of the functions available at the higher membership levels, but it doesn't hurt.
3. Easy Business Builder flags mailers that are not functioning or are not storing information safely.
4. The suite of marketing tools is extensive and they all appear to be quality
What I Don't Like.
I'm a reader. I'd rather read instructions than watch a video. There's a scarcity of written instructions, or if the instructions are there, they are not easy to find.
This is probably my fault because I have so many mailers, but entering the mailer details into the system takes time.
There is a mail reader in the system where you can theoretically import mails in to read. I can't get it to work. That may be just me, and I tend to lose patience pretty quickly
Recommendation
Easy Business Builder provides a helpful suite of tools that can help you organise and manage your business. There is a free option that offers baseline level functionality. I'd recommend joining for free and having a good look around, then if you have a need to organise your mailers, the $10 monthly fee is a relatively small price to pay.